20 Seeds/Pkt
Fresh seeds harvested in 2022
Recommended for experienced growers only.
Ashitaba or tomorrows leaf, as it may be translated due to its fast regeneration, is a hardy herbaceous biennial of the Angelica family endemic to Hachijo Jima, a small volcanic island 280km off the coast of Japan south of Tokyo.
Ashitaba has been identified as having powerful health benefits when consumed as a vegetable or tea, and contains high levels of vitamin B12, important in supporting brain and nervous system function and blood formation. Ashitaba also contains chalconoids, chemical compounds with powerful anti-bacterial, anti-fungal anti-tumour and anti-inflammatory properties, and has been used in the treatment of diseases like small pox.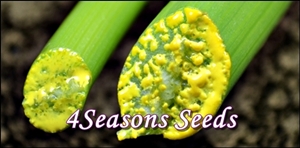 Chalconoids are present in the unique milky, yellow coloured sap, an identifying property of Ashitaba. It is believed that these health benefits have attributed to the traditional long life expectancy of the people of Hachijo Jima.
The fresh young leaves and stems are prepared in stir-fries, blanched or battered and fried as a vegetable tempura. Dried leaves are also prepared as a tea.
Ashitaba is a maritime plant growing best where summers are warm, wet and humid, but with cool to cold winters, and will do well in full sun. Ashitaba is also very frost tolerant. In drier inland locations Ashitaba will require regular watering and protection from hot afternoon sun to grow well.